ON TIME
︎
60 MINUTES OF EXPANDED CINEMA
︎
A SERIES OF ONE HOUR WALK-IN ENVIRONMENT THROUGH TIME AND SPACE
ON TIME, 60'- an hour of life in the world, can be described as a sensorial experience of expanded cinema, sound, and new media.
A walk-in audiovisual installation that transforms the exhibition space into a multi-face projection film, creating an uninterrupted flow of visions and atmospheres where audience will time-travel in an instantaneous journey for one hour worldwide, where time zones across the planet reveal themselves simultaneously.
PROJECT DESCRIPTION
ON TIME, 60' allows us to lose our sense of being bound to the particular place we find ourselves in, by enabling us to travel through time and space. For one hour, we watch the world go by in its multitude of spaces, places and wonders.
In all the cities, people are eating, sleeping, playing, praying, working, traffic is busy or quiet, buildings and spaces are crowded or empty, or in transition. Everything becomes visible, everything is accessible, it is all shown, public, private and intimate space. We effortlessly navigate through various time zones to experience cities/places across the planet all at once.
ON TIME 60' combines aware images of real life, to unaware image stolen by surveillance cameras. Cinematography is a combination of mixed video footage containing live streaming surveillance cam, pre-recorded webcam footage and film recorded at the same hour of the day.
The installation aims to reveal facets of a normal everyday life simultaneously, creating an overwhelming experience of 'the everything' contained in one moment.
In this walk-in audiovisual environment that explore fluidity as an aesthetic, audience will be pushed to challenge the boundaries of time, space, images.
By having access to a great variety of film footage and live-cam, we are able to instantly create connections between places, which is something that lets us directly ponder on our human nature, on how, despite the current situation of alienation and cultural separation, we are all human, and maybe we are not all that different; or maybe we are…?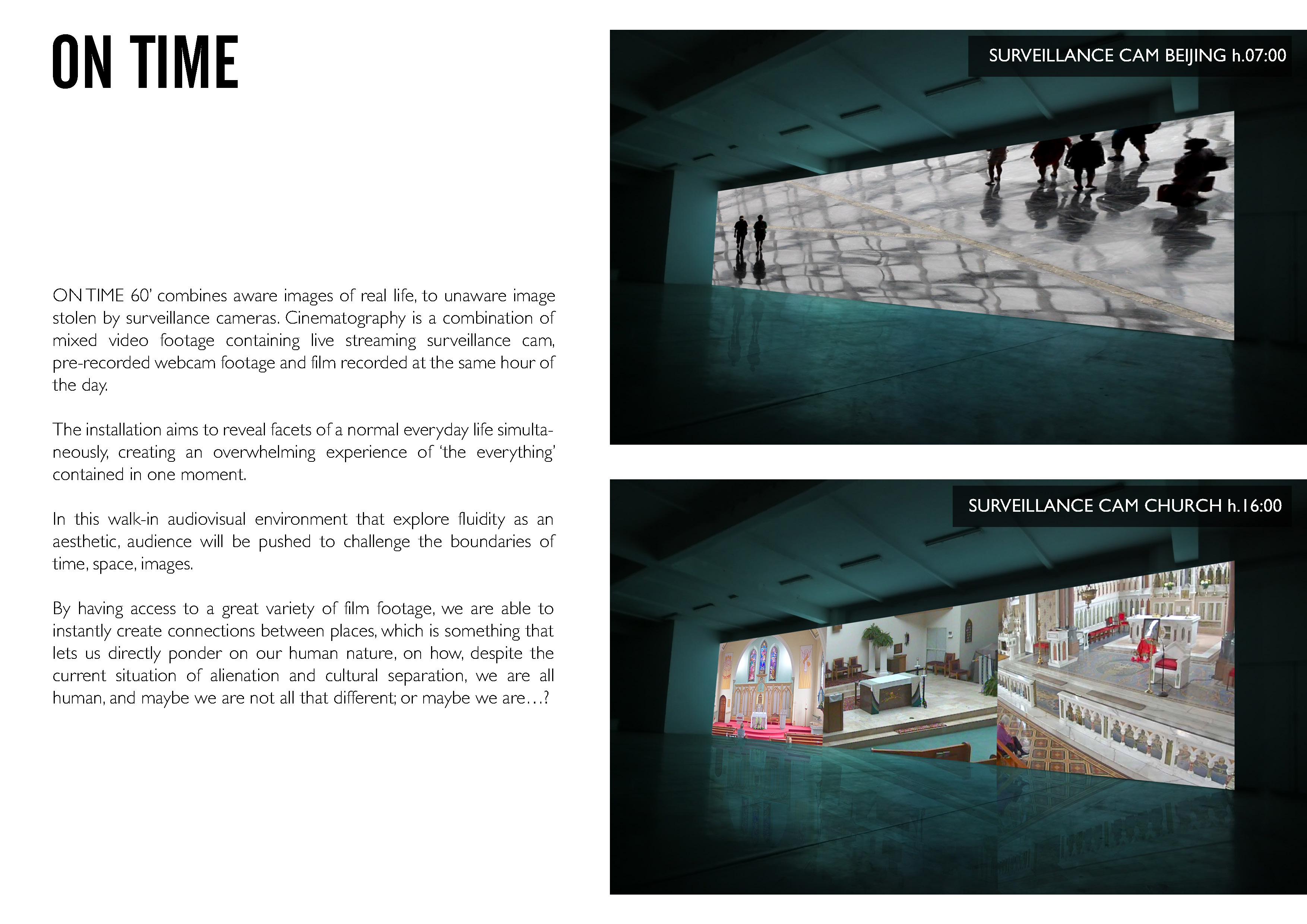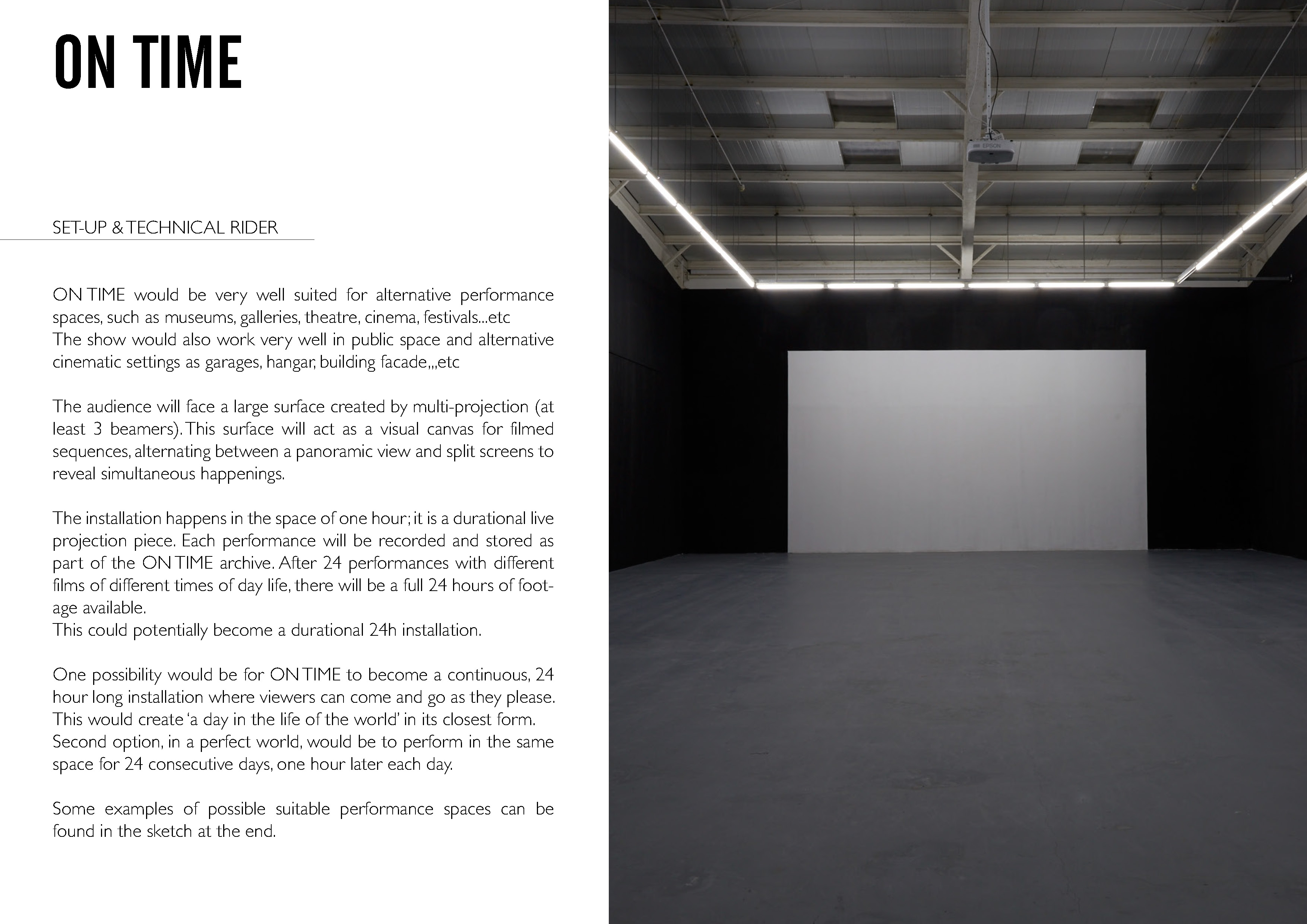 SET-UP & TECHNICAL RIDER

ON TIME would be very well suited for alternative performance spaces, such as museums, galleries and public buildings. The installation would also work very well in alternative cinematic settings, or at experimental festivals that celebrate a diversity of artistic expression.

The audience will face a large surface created by multi-projection (between 2 and 6 beamers). This surface will act as a visual canvas for filmed sequences, alternating between a panoramic view and split screens to reveal simultaneous happenings.

We aim to create an immersive experience that guides the audience into their imagination. Projected videos and music will act together as narrators, overlapping, supporting and triggering each other.








For one hour, we watch the world go by in its multitude of spaces, places and wonders. We effortlessly navigate through various time zones to experience cities/places across the planet all at once. In all these cities, people are eating, sleeping or working, traffic is busy or quiet, buildings are full or empty, or in transition.

ON TIME aims to show all these facets of a normal day simultaneously, creating an almost overwhelming experience of 'the everything' contained in one moment in space and time.


CITIES:
BERLIN H21:00
TOKYO H05:00
NEW YORK H16:00
MEXICO H14:00
SAN FRANCISCO H12:00
BALTIMORE H15:00
SÃO PAULO BRAZIL H17:00
ROME H22:00
JERUSALEM H23:00
04:00 BEIJING
HONG KONG H05:00
04:18 in DALLAS
12:18 in ISTANBUL
06:18 in SAU PAULO
19:18 in SYDNEY